Shen Hongxun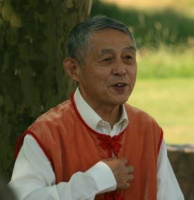 (° Shanghai 08.08.1939 – 10.26.2011 + Zwalm), born into a eminent doctor family in Shanghai, was a son of Dr. Shen Derong and grandson of Shen Baotai.He became a doctor of western medicine combined with Traditional Chinese Medicine.
Dr. Shen Hongxun had good teachers, good friends, and was in the right place at the right time. He acquired his Taiji BaPei knowledge through study with several renowned taiji masters such as Tian ZhaoLing, Yu and Lu Song Gao Jifu. Professor Yao Huanzi was his main teacher.
His medical knowledge and qi research led to the development of the Taijiwuxigong® system and the discovery of The Theory of the Double Vicious Circle. Through his spiritual training he reached the stage of a Lama, and was given the name Lama Fu Re. Taoist Hey Jingqing and Lama Fahai were his teachers.
The unique talent of Dr. Shen Hongxun led to a significant synthesis of the knowledge of so many lines. He developed the Heaven Mountain Taiijiquan form, a Buddhist-inspired approach to the Yang-style form combined with the insights of the Taijiwuxigong® system.
After the Taiji 37® training with Xia Zhixin this knowledge was elaborated on the various postures of Heaven Mountain Taijiquanvorm into the Taiji NanPai 37 Stances. Under his direction a short taijiquan form was developed putting together the knowledge and principles of both Heaven Mountain Taijiquan form and Taiji NanPai 37 Stances. This synthesis led to a renewal and revival of the NanPai Taijiquan.
His knowledge of employability of qi as a treatment and the use of 'Empty Force' was developed to The Buqi® healing system. Taiji 37® NanPai Taijiquan, Taijiwuxigong®, Buqi® Therapy, Daoyin Therapy, Qi-Pushing Hands, TianShan Sanshou and The Golden Light Meditation form the basis of his legacy.
In Shanghai Dr. Shen Hongxun met Dr. Xia Tingyu, daughter of Xia Zhixin. They married and had two children together, son Shen Zhengyu (°1965) and daughter Shen Xiaoli (°1973). Dr. Shen Hongxun and Dr. Xia Tingyu worked intensively together researching the use and deployment of qi in medical application. Also they published under the joint authorship their results.
Dr. Shen Hongxun was invited to Belgium in 1987 and was an international teacher in Europe and the United States until his death in October 2011. The family ties with China always remained very important for him.
More detailed information on Dr. Shen Hongxun can be found in his books and his autobiography on www.shenhongxun.org.
Shen Zhengyu
(Xinjiang °21/04/1965) is the son of Dr. Shen Hongxun and Dr. Xia Tingyu. He underwent the traditional Taiji training from father to son. As a child Shen Zhengyu also received taiji training from his grandfather Xia Zhixin. At an early age he became assistant of his father and thereby acquired a profound knowledge of Traditional Chinese Medicine. After achieving a diploma in the field of preventive medicine, he worked for several years in this discipline.
Shen Zhengyu followed his father to Belgium, where he has worked as an independent Taiji teacher since 1992. He is also the founder of the Taiji Center vzw and ShenBUQI®.
He developed the NanPai TaiJi37 Stick Form, reformed the Yang style Sword form into the NanPai TaiJi52 Sword Form and specialized in Qi-Pushing Hands, TianShan-Sanshou, Buqi Daoyin and Tuina Therapy. After being recognized as a successor for the lineage and this great work, Shen Zhengyu received intensive guidance, supervision and support and entered in the footsteps of his father.
Shen Zhengyu gives weekly lessons in Belgium as well as courses and workshops in Taiji37, Daoyin-Therapy and Buqi- training in Belgium, Norway, the Netherlands, France and the United Kingdom.